Services   We pride ourselves in our outstanding customer service and personal touch. We always strive for our client's satisfaction. Dedicated Bilingual Representatives are assigned to each of our clients to provide personal attention and technical support. Our Experience   At TEB we believe that service comes first. We offer the best online administration systems on the market to provide you with state of the art technology and services. Our technology along with our experienced staff take away the fear of automation and gives the benefits and HR staff the time to concentrate on the most important component of your business, your employees.
The TEB Advantage | We work hard to make sure you are getting the best quality options in the market. We work with the best carriers out there to provide the best possible selections for you to provide a great benefits package for your employees. Not just a partner, but a team. | Our promise to you is to provide you and your employees with the highest level of service. Your TEB team will consist of an account director and dedicated account manager.  | Support - Our team will provide full billing and reconciliation services for the benefits that we administer. Full hands on claims assistance and follow-up to make the employee experience as easy as possible during their time of need. Many of our clients are provided with a TEB on-site representative which becomes an extension of your benefits department.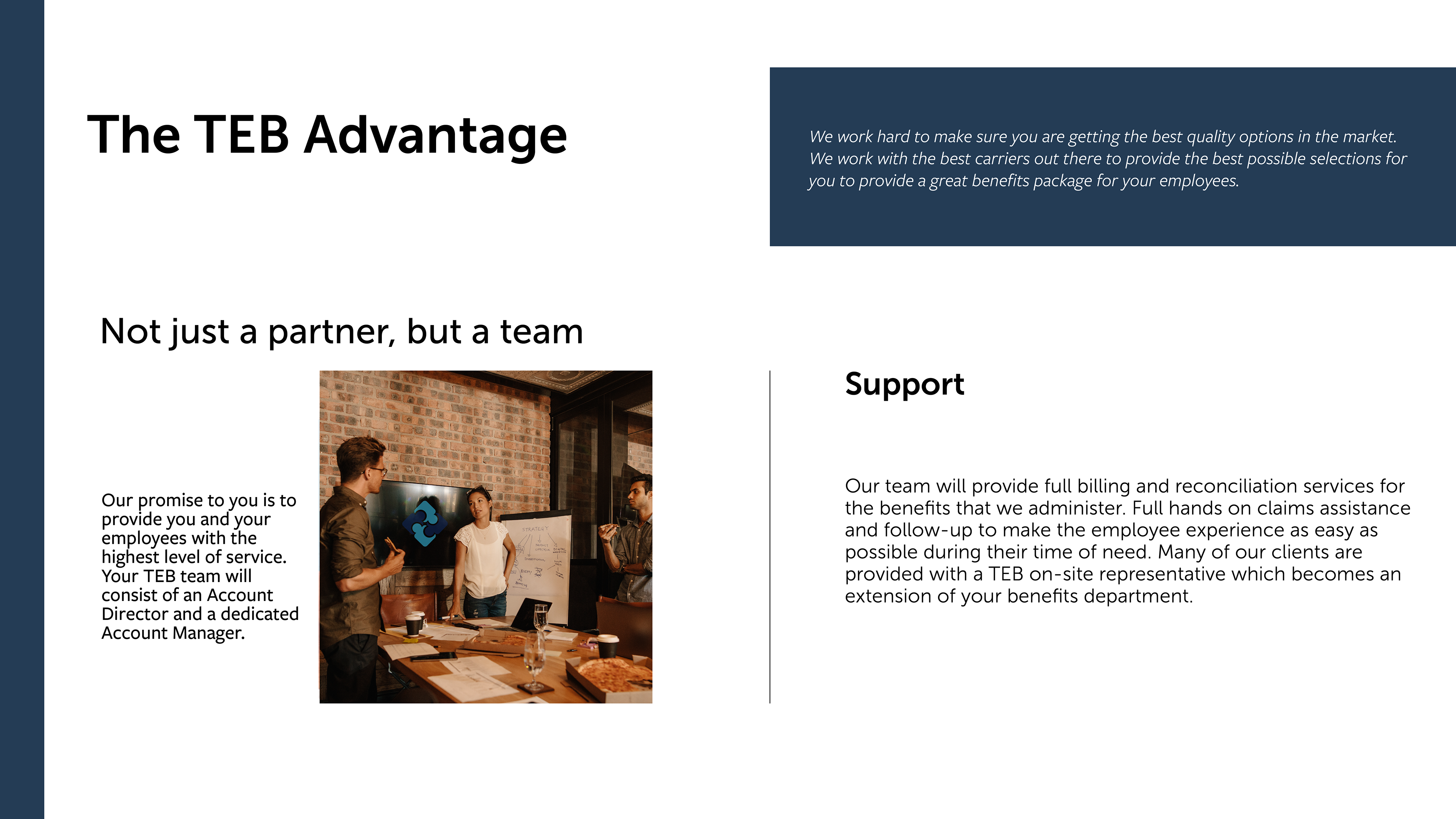 Benefits Platform | Streamline Enrollments - Tracking Qualifying Events, Open Enrollments, EOI'S, New Hires and COBRA enrollments all in one platform is a breeze. Know when an enrollment event occurs and reduce claim and billing issues. | Endless Reporting - The system's reporting feature allows for endless customized reporting capabilities. Pre-configured reports that assist with tasks such as billing and auditing are also a great tool. Employee and benefit reporting just got easier. | Seamless Integration - This state of the art platform will allow for an innovative approach to benefits administration. Integrate with carriers and other platforms for a seamless process throughout all your systems. It doesn't get easier than this.